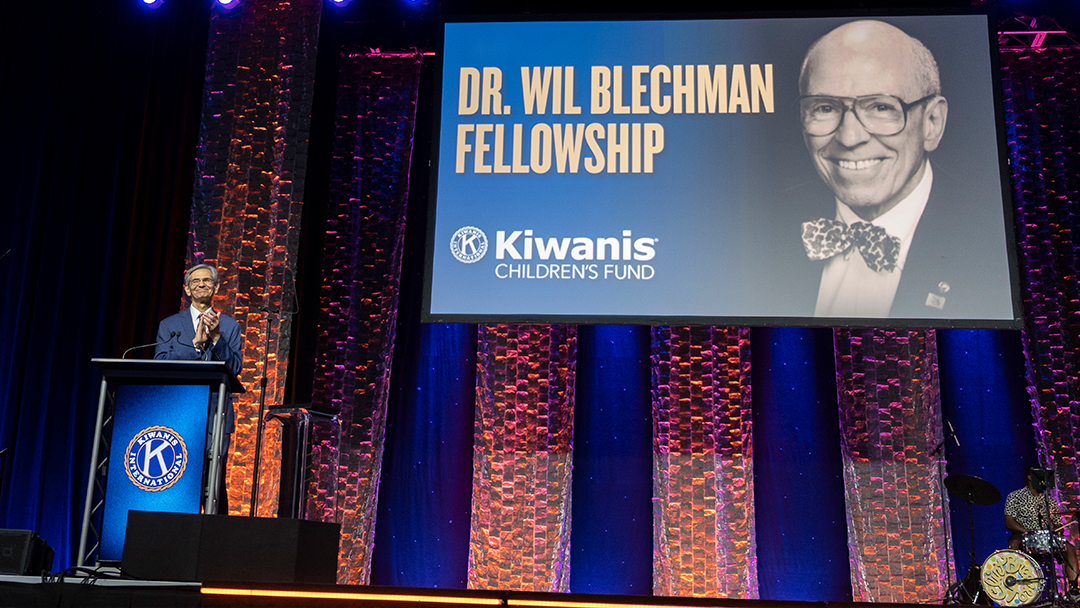 Volunteers give a part of themselves. They invest their time, energy and skills to make a difference in their communities. Recognizing a person's value and investment is key to retaining members — and motivating them to stay invested in your club. You can recognize exceptional members with any of the following awards.
Ruby K Award
Honor Kiwanians who invite five or more new members during their Kiwanis career with a Ruby K Award, free of charge. Ruby K pins recognize members for inviting new members — from five to 100 people. (Further Ruby K awards are given for multiples of 25 over 100.) The award is cumulative, so previous recipients are eligible for a new Ruby K when they invite additional members. Submit an application.
Distinguished members and clubs
Kiwanis International gives "distinguished" awards to individual Kiwanians and clubs that meet established criteria demonstrating special dedication to service, membership strength and Kiwanis education. Distinguished members receive a lapel pin. Distinguished clubs receive lapel pins for the president and secretary, along with a patch for the club's banner.
Life membership
Thank a member who has demonstrated exemplary commitment to The Objects of Kiwanis and mission of Kiwanis International with life member status. A gold-tone membership card, desktop award, distinctive lapel pin and lifelong exemption from Kiwanis International dues are some of the ways life members are honored. Submit an application.
Legion of Honor
Honor members who have served in Kiwanis for 25 years or more with the Legion of Honor award. They deserve recognition for helping to make Kiwanis the great organization it is today. Certificates signed by the Kiwanis International president and executive director, as well as lapel pins that reflect the highest office held by the honoree, are available for presentation. Purchase Legion of Honor award material from the Kiwanis Family Store. Please provide the recipient's name, the number of years he or she has been a Kiwanian and the highest club office he or she has held.

Robert P. Connelly Medal of Heroism
Created during the 1967 Kiwanis International Convention, the Robert P. Connelly Medal of Heroism is awarded to an individual who has risked or given his or her life to save someone else. Potential recipients are nominated by Kiwanis clubs within one year of their heroic acts.
Connelly, a 34-year-old member of the Kiwanis Club of Lisle, Illinois, U.S., lost his life on September 23, 1966, when he attempted to rescue a woman who had fallen into the path of a passenger train. The award notes that Connelly was "the epitome of all that Kiwanis strives to be."
To submit a name for consideration of the Connelly Medal, complete the online form.
For additional information on these forms of recognition, call Kiwanis International at 1-800-KIWANIS (U.S. and Canada) or +1-317-875-8755 (worldwide), ext. 411. Or email memberservices@kiwanis.org.