Thank you for stepping up to serve as a Kiwanis leader! The organization needs dedicated volunteers like you to thrive. You and your club play a vital role in making Kiwanis International what it is today. This page will provide you with information about Kiwanis as a whole so you can better understand the impact of this organization.
Kiwanis is a global community of clubs, members and partners dedicated to improving the lives of children one community at a time. Today, we are more than 550,000 members strong, from K-Kids to Kiwanis, in more than 80 countries around the globe. Kids need Kiwanis. For more than a century, Kiwanis has created opportunities for children to be curious, safe and healthy — regardless of the community in which they live. When you give a child the chance to learn, experience, dream, grow, succeed and thrive, great things can happen. That's what Kiwanis members do. We are generous with our time. We are creative with our ideas. We are passionate about making a difference. And we have fun along the way.
LEADERSHIP STRUCTURE
You are not alone — you're a member of a bigger leadership team. Every year brings a transition for all leadership positions, from Kiwanis club officers to the president of Kiwanis International. Together, we're going to help the Kiwanis family make a difference all over the world. This whole leadership team is working together to support Kiwanis clubs all over the world. You play a vital role in connecting all the pieces.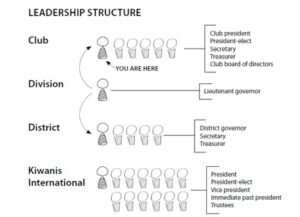 About Kiwanis:
Current Kiwanis International Leaders