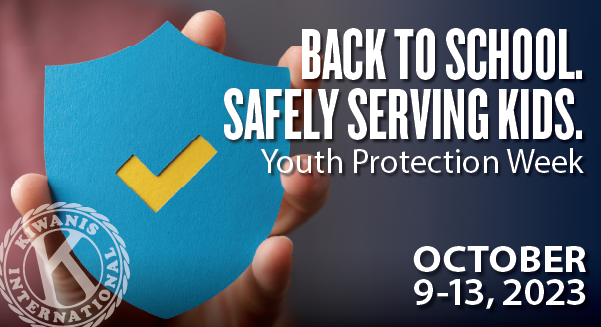 Nothing is more important than the safety of the children Kiwanis serves. That's why Kiwanis International dedicates a week each year to youth protection. In 2023, Youth Protection Week is October 9-13, giving Kiwanis clubs the opportunity to conduct important youth protection training and evaluate the club's compliance.
Kiwanis clubs are required to educate members annually on Kiwanis Youth Protection Policies & Procedures. The resources available during Youth Protection Week make it easy for your club to meet this prerequisite. Kiwanis clubs can host in-person or virtual training for all members of the club:
We appreciate your club's efforts during Youth Protection Week and the commitment you share to protecting youth.

Educate members
Take time during the week to train members on youth protection during a Kiwanis club meeting. Club members also can use our online resources to complete the training on their own.
After your club completes training for the 2023-24 Kiwanis year, your club secretary should update the reporting dashboard.
Other information and resources:
Join a live webinar
Kiwanis International is diving deeper and hosting youth protection webinars for members, officers, volunteers and chaperones who advise or volunteer with the Service Leadership programs.
Monday, October 9   
8 p.m. ET: Get educated! Youth Protection Policies in Practice for Clubs, led by Erika Ryser, Kiwanis SLP Training & Education Specialist. Register HERE
Tuesday, October 10   
8 p.m. ET: Prevention and Awareness are Key to Youth Protection, led by Melissa McMann, Kiwanis SLP Training & Education Administrator. Register HERE
Wednesday, October 11  
8 p.m. ET: Embracing and Integrating Youth Protection Policies in Your District.  Register HERE