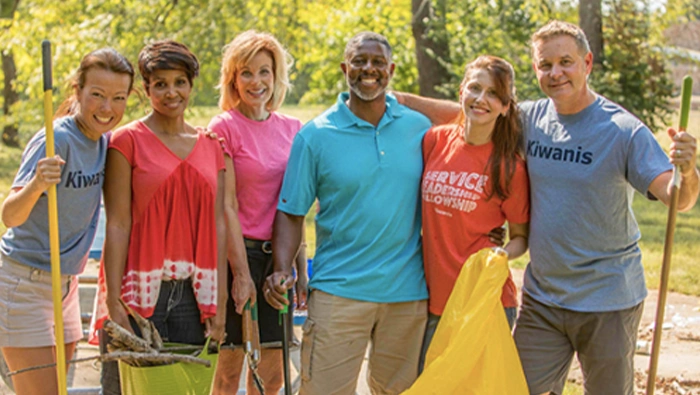 Kiwanis clubs around the world joined other service organizations to help even more communities. 
Community service took center stage September 11-17 for the third annual Celebrate Community, a weeklong joint initiative from Kiwanis International, Lions Clubs International, Optimist International and Rotary International. 
Why collaborate with other service organizations? To help even more communities and kids! Plus, members of participating service organizations had the chance to learn more about one another — and see how teamwork, not competition, makes our world better.  
Kiwanis clubs around the world highlighted their projects on social media using the hashtag #CelebrateCommunity. Here are just a few: 
The Kiwanis Club of Hendersonville, North Carolina, U.S., collaborated with two Rotary clubs and a Lions club to collect and deliver 3,760 diapers and 136 packs of baby wipes to the Children & Family Resource Center. Aktion Club was involved too. "Children & Family Resource Center is so thankful to be the recipient of such generosity in our community," says Jamie Wiener, the center's executive director. "We provide roughly 400 children each month with diapers and formula so moms and dads don't have to choose between food, utilities and other expenses over the health and safety of their baby." 

Kiwanians in India, a provisional Kiwanis district, joined forces with Lions Clubs International

by painting smiles on the faces of children through the distribution of stationery and vibrant painting colors, all in the spirit of spreading boundless joy.  

In Evanston, Illinois,

U.S., s

ervice clubs collaborated to perform a range of community service activities, culminating in a cleanup at the International Friendship Garden. "The International Friendship Garden is a symbol of community unity, and we are eager to make it shine," says Evanston Rotary Club President Shawn Iles.  
The Kiwanis Club of Grand Cayman co-organized a beach walk with Lions, Optimist and Rotary club members, raising more than $1,000 for the Cayman Islands Community Food Bank.   

Club Kiwanis Playas in Panama teamed up with a Lions Club to donate food to students at the El Farall

ó

n School. "

El Farallón is a fishermen community. These kids mostly belong to families whose economy depend on the catch of the day," says club President Lanny Lowe. "Food insecurity and malnutrition are issues that the school helps solve, and Club Kiwanis Playas looks forward to the school having enough food supply to feed the kids."

 

The Kiwanis Club of Lebanon, Indiana, U.S. co-hosted an intergenerational ice cream social for more than 120 senior living community residents, family members and Lebanon High School students. "It was a great night for all involved," says Amy Hammerle, Lebanon Kiwanis Club president. "Coming together with the Lebanon Lion and Rotary clubs to serve these special seniors was rewarding and so much fun."  

Kiwanis and Circle K International members in Ontario, Canada, collaborated with Rotary Club members to fill backpacks with school supplies for kids in need. "I enjoyed working alongside people I knew who genuinely wanted to help their community," says University of Windsor CKI member Abdullah Nadeem. "The energy was amazing. I remember how everyone was smiling and trying to match the notebooks with the color of the backpacks, and it was these small gestures that made me realize how much this project meant to the volunteers and how they knew they were making a difference."
"We are thankful for this wonderful opportunity to have worked with other service clubs to create stronger communities around the world as part of Celebrate Community," says 2022-23 Kiwanis International President Bert West.

Did you participate in Celebrate Community this year? Don't forget to submit your joint project for possible inclusion in upcoming Kiwanis communications.